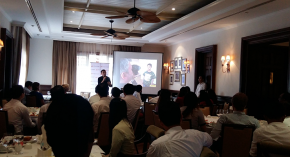 Trust, Engagement, and the Employment Relationship
Venue:
Trust, Engagement, and the Employment Relationship
Wednesday, December 6, 2017 -

08:30

to

10:30
Trust in the workplace has proven to greatly boost productivity and have a positive impact on employees by increasing engagement and reducing stress. Join the Australian-Myanmar Chamber of Commerce and DFDL on the 6th of December and learn specific tools and techniques that are proven to build trust and drive personal and organisational success.
With insights from Danyel Thomson and Tony Campbell, don't miss the chance to learn practical tips and techniques to make the employment relationship work for you and your organisation.
EVENT DETAILS
When: Wednesday 6 December 2017 l 8:30am to 10:30am
Where: Le Cellier, Novotel Yangon Max - Level 14, 459 Pyay Rd, Yangon
Cost: 15USD for member and 30USD for non-member
RSVP: click here  
This Talk is for
Executives - looking to grow their business in Myanmar.
Managers - wanting to build trust in their teams.
Human resources employees - searching for ways to keep compliant with employment law while building trust in the workplace.
Sales & Marketing employees - trying to gain a competitive edge.
Customer service employees - trying to develop better relationships with their teams.
You Will Learn
The impact of trust in an organisation
What trust does to your brain
5 ways leaders and managers can build trust within their teams and organizations
How building a trustful, engaging employment relationship begins with clear and legally compliant documentation
The Myanmar labor law requirements employers must adhere to in establishing the employment relationship foundation
Recommended provisions for your employment documentation to ensure expectations are communicated effectively
Guest Speakers
Danyel Thomsom-Regional Head of Employment Practice Danyel is a U.S. qualified lawyer who has been practicing in Southeast Asia for 10 years. She advises clients on all matters involving labor law issues, including employment contracts, internal regulations, employment terminations, and employer rights and obligations. Her varied client base includes commercial enterprises, embassies, international organizations, and non-governmental organizations. Danyel firmly believes that clear, legally compliant HR documentation creates a solid foundation for a good working relationship between managers and their people.
Tony Campbell- DFDL's Professional Development Director Tony passionately believes in the power of training to help people and organizations achieve their goals. Tony is an award-winning trainer with more than 30 years' experience delivering workshops and seminars across Asia, Europe, North America, and Australia. His clients have included organizations of all sizes across a wide range of sectors.