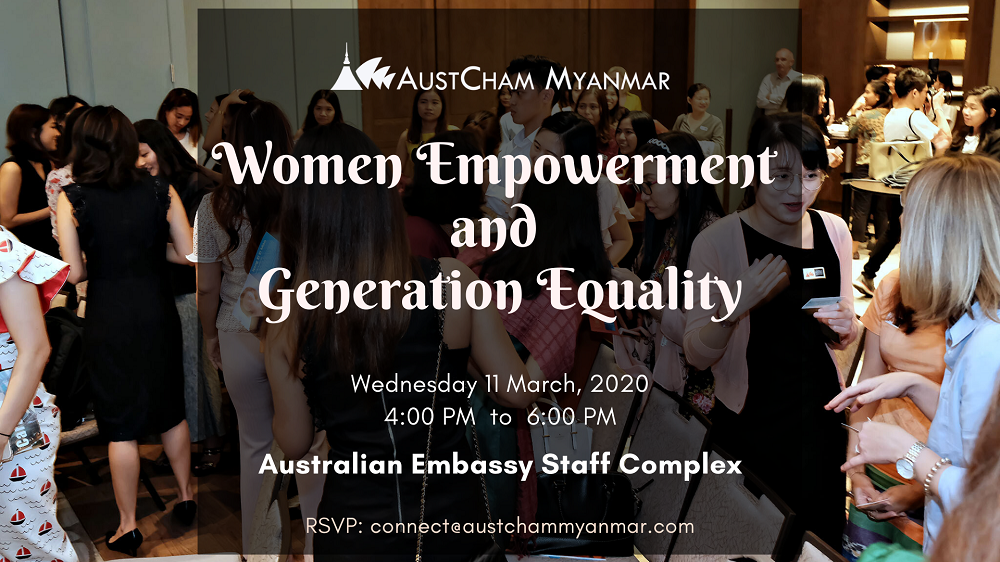 Women Empowerment and Generation Equality
Venue:
Australian Embassy Staff Complex, 18 Golden Valley Road, Yangon, Myanmar
Wednesday, March 11, 2020 - 16:00
On 11 March 2020, AustCham Myanmar will be hosting an event to mark International Women's Day 2020. At this critical juncture in Myanmar's history, opportunities for women and girls to become empowered economically are immense and the Chamber acknowledges that Myanmar women are valuable assets in this country's trajectory to becoming a developed nation.
 
The 2020 global IWD theme is Generation Equality. It represents a call to action across generations, to create a world where every girl and woman had equal opportunity to fulfil their full potential.
 
AustCham Myanmar's IWD 2020 event will celebrate the achievements of women in Myanmar and highlight the example of AustCham Myanmar and the Australian Embassy with our high female participation in senior roles.  
When: Wednesday, 11 March 2020 l 4:00PM-6:00PM
Where:  Australian Embassy Staff Complex, 18 Shwe Taung Gyar Road, Bahan Township (next to the International School of Yangon)
RSVP: connect@austchammyanmar.com
The event will be followed by networking drinks at Australian Embassy Staff Complex until 7:00PM. Event registration is FREE for members of AustCham Myanmar and spaces are limited, so register quickly.